There is silence as we walk onto the deck and see my Cobra for the first time. My four teammates are stunned, and I'm feeling somewhat smug about this. I walk up to my shiny new ride and run my hand over the fresh paint job. "A-rated cores, light-fitted internals, jump range of 24 light years unladen..."
"Nice bloody job, Sock," murmurs Dawg eventually. He, Al, Tor and Lori are keeping their distance from my ride. I am amused.
"'Token Female Member'... seriously?" says Tor.
"Yeah," I beam proudly.
"What's all the spiky shit for?" asks Lori.
"She's always surrounded by useless little pricks."
"Oh, that's
beautiful
," observes Al.
I walk round the back - dodging more spikes - and board my ship. She still smells of paint and that spray they put on new metal fittings to keep them shiny. I slide into the flight seat and dig into the bag I've brought with me. I spend about 15 minutes arranging my bobbleheads on the dash and then I murmur through my in-suit coms, "Perfect. Finished."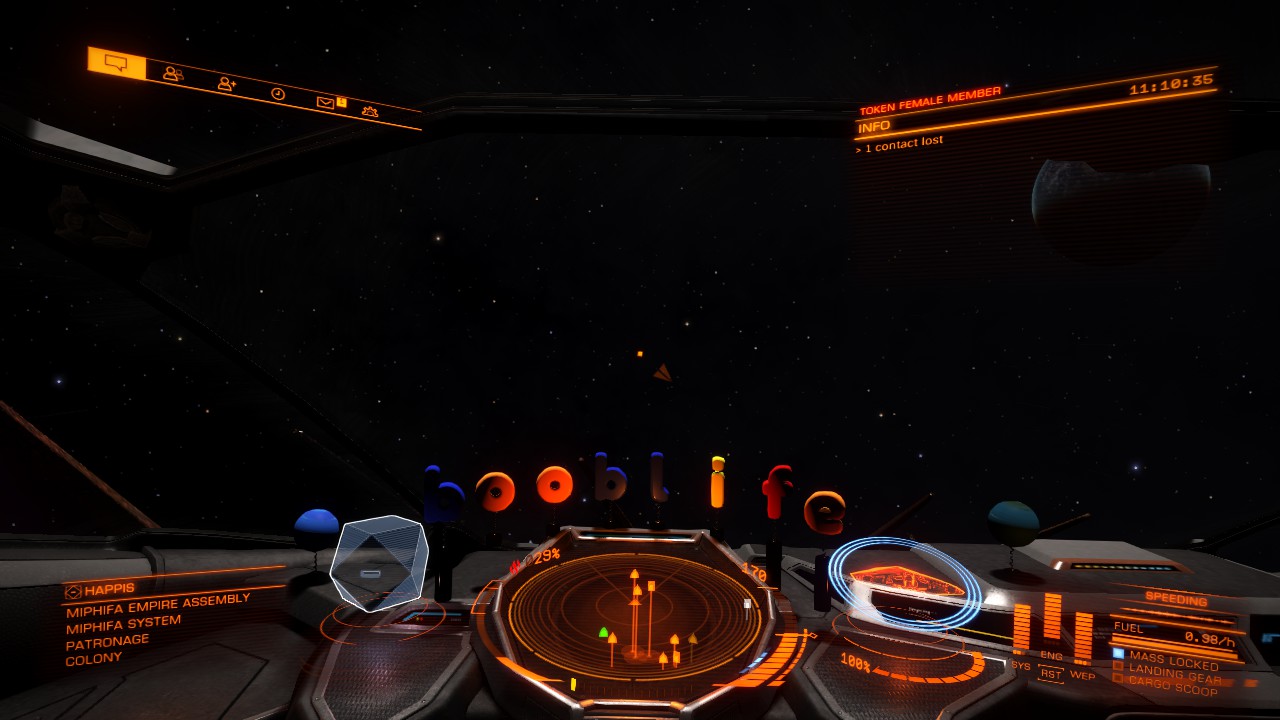 "Great. Let's get some fucking flying done, then," grumbles Tor, though Dawg and Al have followed me into my flight deck and are snickering at the bobbing letters.
"And the planets?" asks Al.
"Surrounded by little pricks, but there'll always be blue balls."
Dawg's snickering progresses into guffaws. Al rolls his eyes and leaves the deck. I punch the panel to open station coms and begin the request launch process as the rest of the A-Team leave the hangar in search of their own ships.
The Cobra - "Member" - feels heavier and more solid than they GU-97 I've been flying recently, though the stick and panels are all well-placed and easier to reach than in the Gooey's cramped cockpit space. The deck she's parked on spins and raises me up into the vast space of the station we're on, and I am informed my clamps are released.
I power forward and up, sending the ship lurching and am surprised at the responsiveness of the vessel; I'll need to take it gently at first as she's got a lot of throttle and it's all ready to fire. I try again, aim the nose for the envelope and make for the exit at a polite speed. Once out of it, I move a little distance away and then try one of Dawg's flippy tricks to bring her about (into her bright pink wake stream) so that I can watch the rest of the team emerge.
Dawg's Python, "Old Gal"; Tor in "Lucy" the 'Vette, Lori in "WRECKEDEM" the 'Conda (with an eye-roll from me) and Al in an...
"What the fuck are you flying, Al?" I ask over coms. Three ships turn to look at Al's bi-coloured, light blue and grey vessel.
"Wanted to try something new," he replies.
"That wasn't the plan," says Tor dryly.
"Just give it a chance. It might surprise you," says Al cheerfully.
"A dolphin? A
DOLPHIN
?!," exclaims Lori, utterly horrified as Al fires up the thrusters on his shiny new dolphin and moves closer to me. The thing is called "Pearl Diver" and has a winking face beneath its name plate.
"Cyan... really?" murmurs Dawg as Al moves past him, engine wake the colour of ocean spray billowing out behind him.
"
That's your problem with it?!
," says Lori. He is almost apoplectic.
"What?" says Al innocently. "I thought it was poetic."
"Poetry?" says Tor, and we get a notification that he is targeting Al's cheerful, pretty, blue-and-grey dolphin. "What are its shields like?"
There is a pregnant pause and then Al giggles over the coms. "Very fucking good, actually. But I'm just fucking with you. You gents are so touchy - I just wanted to show my sensitive side. It's not all war, war, war. This one's for the ladies. Anyway... I'll be right back," and then he slips his monstrosity back inside the envelope, to eventually return in an over-powered Asp X with a bright red paint job.
"Right then," says Lori clearing his throat and regaining his cool, unruffled composure, "We all know the plan. Let's get to work."